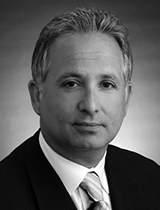 Jeffrey S. Youngerman
jyoungerman@fylegal.com
Mr. Youngerman represents plaintiffs and defendants in complex business and tort litigation, with an emphasis on claims involving construction defects, insurance coverage, toxic mold and other contaminants, fraud, breach of contract, breach of warranty, personal injury arising from construction sites, suits for injunctive relief when money damages are inadequate and a wide variety of community association litigation ranging from developer claims for defects in construction and financial and other mismanagement, breach of fiduciary duty, and various other operations claims. From time to time he also provides developers and contractors with risk management services in connection with their business operations. He has been a trial lawyer since 1986 and is a member of the Illinois Bar and the Federal Trial Bar of the United States District Court for the Northern District of Illinois.
Mr.Youngerman has obtained substantial recoveries on behalf of owners and businesses in construction claims, including a wide variety of claims involving deficiencies in design, construction, and materials. He has successfully defended large developers and contractors in construction defect suits and suits for injunctive relief regarding their development activities, and directors and officers in claims for breach of trust. He has also obtained substantial relief for businesses and their directors and officers, handling claims involving shareholder agreements, non-compete clauses, real estate disputes, breach of fiduciary duty by employees and product failures.
Mr. Youngerman has substantial experience arguing before the Illinois Appellate Court and the Illinois Supreme Court in cases involving significant construction law issues. He is a frequent lecturer on construction litigation, including serving as a faculty member for Lorman Education Services. He is regularly consulted by local media on construction topics and has served as a guest commentator for the local CBS affiliate and 780 WBBM AM Radio in connection with the live coverage of the 2003 Chicago deck collapse.