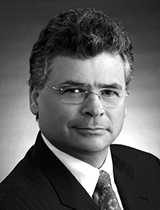 Michael J. Flaherty
mflaherty@fylegal.com
Flaherty & Youngerman, P.C. serves as trial and appellate counsel for legal and financial malpractice, commercial litigation, business tort, and construction defect cases. The firm only employs experienced trial lawyers and is designated in the Bar Registry of Preeminent Lawyers for its civil trial practice.
Michael Flaherty is best known as a legal malpractice lawyer. For more than 25 years, he has served as lead trial counsel in virtually every type of legal malpractice case. Mr. Flaherty also represents lawyers in ethics, discipline, and business disputes, serves as outside general counsel to several law firms, and is an expert witness on law of lawyering standard of care issues.
Mr. Flaherty has been licensed to practice law in Illinois since 1983 and is a member of the Federal Trial Bar for the Northern District of Illinois and the 7th Circuit Court of Appeals. Annually since 1998, he has been rated AV® Preeminent in the Lexis-Nexis Martindale-Hubbell peer rating system. Annually since 2009, he has been recognized in the Chicago Magazine – Illinois Super Lawyers publications in the area of legal malpractice. He is also a Lifetime Fellow of the American Bar Foundation and a member of the Leading Lawyers Network in the areas of legal malpractice and commercial litigation.
Mr. Flaherty is an Adjunct Professor (Professional Responsibility –Trial Ethics), Northwestern University School of Law, since 1994. He has been a Faculty Member at the National Institute for Trial Advocacy and the Professional Responsibility Institute of the Illinois Supreme Court. He is a Member of the ABA Center of Professional Responsibility, the ABA Legal Malpractice Data Center, the ABA Professional Liability Litigation Committee, and the ABA Ethics and Professionalism Litigation Committee. Previously, he served as President of the Association of Professional Responsibility Lawyers, Chair of the Chicago Bar Association Committee On Legal Malpractice, Editorial Board Member of the American Bar Association Center for Professional Responsibility, Member of the American Bar Association Joint Committee on Lawyer Regulation, Liaison to the American Bar Association's Standing Committee on Lawyers' Professional Liability, Co-Chair of the 2002 Global Forum on International Legal Ethics and Risk Management, Florence, Italy, Co-Chair of the 2000 Global Forum on Multi-Discipline and Multi-Jurisdictional Practice, Cambridge, England, and ABA Reporter at the 2000 U.S. Chief Justices Conference on Multi-Jurisdictional Practice.
Mr. Flaherty regularly presents ethics and law of lawyering CLE presentations in Illinois and nationally, including serving as the featured Speaker for a number of webinars. On more than 50 occasions, Mr. Flaherty has spoken at national and international conferences concerning lawyers' professional liability and risk management. Mr. Flaherty also regularly provides firm-specific/practice-area-specific risk management continuing legal education programs.