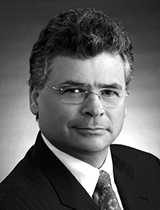 Michael J. Flaherty
mflaherty@fylegal.com
Michael J. Flaherty, a civil trial lawyer since 1983, concentrates in the areas of legal malpractice, accounting malpractice and business torts. Mr. Flaherty has been the lead lawyer in more than 100 legal malpractice cases. He also has litigated professional malpractice cases involving physicians, psychiatrists, psychologists, financial brokers, real estate brokers, architects, engineers and insurance brokers. He is a member of the Illinois Bar and the Federal Trial Bar of the United States District Court for the Northern District of Illinois and is admitted pro hac vice when handling cases in other United States jurisdictions.
Mr. Flaherty is an elected Fellow of the American Bar Foundation, an honor limited to 1/3rd of 1 percent of lawyers in a state. He is A-V rated, the highest competence and ethics ratings available in the Lexis-Nexis® Martindale-Hubbell® lawyers' peer rating system.
For more than a decade, Mr. Flaherty has volunteered as an adjunct professor at Northwestern Law School, where he teaches a clinical trial ethics course. Mr. Flaherty served as an invited delegate to the Multi-Disciplinary Practice Forum at Fordham Law School and an American Bar Association appointed Reporter for the United States Chief Justices Conference on Multi-Disciplinary Practice. He has served as an instructor for the Illinois Supreme Court's Professional Responsibility Institute, Fulcrum's Chief Financial Officers Forum and the National Institute of Trial Advocacy.
Mr. Flaherty is a Past President of the Association of Professional Responsibility Lawyers, a Past Chair of the Chicago Bar Association's Legal Malpractice Commitee, and has served on various American Bar Association committees, including the ABA Center for Professional Responsibility Editorial Board. He has been a featured speaker at more than 50 seminars in the United States, Canada and Europe focusing on legal malpractice and legal ethics.