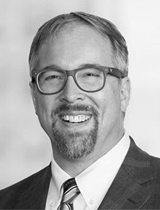 Terry Fox
tfox@fylegal.com
Terry Fox is a defense trial lawyer from the Chicago area. Terry has over 25 years of experience litigating and resolving disputes in civil justice arenas including state and federal trial and appellate courts throughout Illinois. He has also represented clients in a wide variety of administrative tribunals, from the EEOC and Illinois Department of Human Rights/Civil Rights Commission to Municipal Zoning Boards of Appeals and Planning Commissions. His practice is primarily focused on employment law claims and disputes involving sex, race, national origin, age, disability FMLA and other alleged discrimination, as well as overtime, wage and hour, and ICE investigations. He regularly advises employers in these areas and provides guidance to reduce the risk of claims.
Terry represents condominiums and other community associations, both on day-to-day governance matters and matters in litigation. He has successfully defended and protected board members in high pressure suits seeking in excess of six figure recovery on defective building and facility claims including water infiltration. He advises Boards routinely regarding risk transfer including insurance and indemnification of directors. He has successfully pursued banks for associations and recovered dwelling units in creative resolution of legacy assessment debt in disputes arising out of foreclosure sales. Terry also represents businesses in commercial disputes, including those involving commercial leases and other breaches of contract. In that area, he has successfully prosecuted claims in arbitration and pushed resolution via mediation. He has represented contractors facing federal debarment for failure to meet executive order obligations for affirmative action.
Historically, Terry has extensive experience representing insurers and their insureds in high exposure personal injury claims. These claims have arisen from automobile accidents, elevator incidents, dropped power lines, underground utility damage, and industrial injuries. He has also been involved in litigating disputes over insurance coverage and the extent of the obligation to defend parties in suits, as well as third party matters involving contribution, and target tenders. Illustrative of the creativity in resolving disputes, in a partial foot-degloving case to a motorcyclist struck by a van, he constructed a settlement paradigm with the key medical issue of RSD in the injured area open for resolution by an arbitrator. The agreement provided for an arbitrator to select a medical expert to determine from the available evidence, and testimony of medical experts from both sides, whether Plaintiff suffered from RSD. The matter was resolved within weeks with a negative finding by the arbitrator-retained neurologist, saving the insurer in excess of $200,000, as well as the cost and uncertainty of a jury trial.
Terry is currently serving his second term as a member of the Illinois Association of Defense Trial Counselís Board of Directors. He has organized fund raising for child welfare organizations, served on various non-profit boards including Big Brothers/Big Sisters and homeless organizations. He is a 1990 graduate from the University of Iowa College of Law and prior thereto obtained his BS in Political Science with Honors from the Iowa State University of Science and Technology. He has written extensively on defense and insurance coverage issues, and served on the Editorial Board for the Illinois Survey of Law 2015 & 2016.